The perfect provider or too complex?
Cloudways is a serious company for advanced website developers and owners who demand full power over their applications. If expressions like "containerized", "deployed" or even "virtual environment" make you shiver, then this is not the review for you.
Cloudways, founded in 2011 and located in Malta, specializes in managed cloud hosting and can adapt to a variety of different hosting needs like WordPress, Magento, Laravel and custom PHP applications.
Here comes the technical part. Cloudways offers a single console to integrate many cloud services and allows PHP developers to deploy applications in containers (which means you can deploy and run PHP applications without launching a complete virtual machine for each app).
Because it has alliances with all major cloud providers, it offers servers located in more than 42 data centers in more than 25 locations around the world. However, its main customer base is English-speaking .
Cloudways has more than 50 employees to serve its global customer base of more than 20,000. Although Cloudways has built a reputation for being fast, secure, reliable and affordable , it is still not a large hosting company compared to some of the industry giants.
What's more, although the plans are excellent, they include much more features than most beginners need. Cloudways is best for business owners or web developers who want to maximize their productivity , leaving all security and performance improvement tasks to professionals.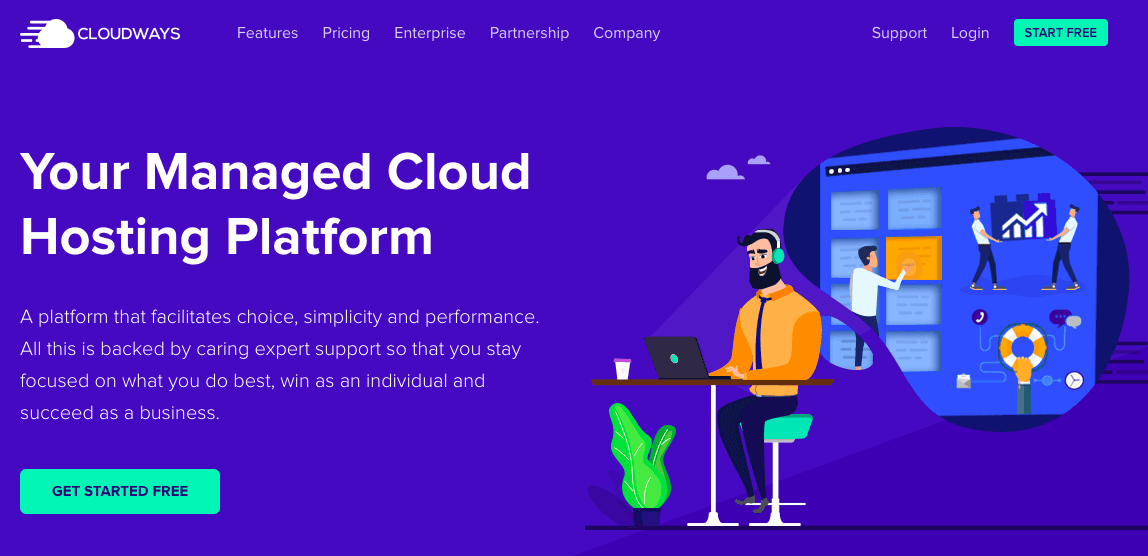 In this Cloudways review, I'll delve into features, ease of use, performance, customer support, price, and more. I will answer questions like:
How easy to use is this platform?
How is the customer service?
How fast are the ping speeds at each location?
What are the best features Cloudways has to offer?
What could be better?
If you give me 15 minutes of your time, by the end of this review you will know if Cloudways is the right company for you .
CHARACTERISTICS
Powerful hosting for powerful users
To test the Cloudways platform, I tried their managed WordPress hosting service. I'm happy to announce that overall, I found a good balance of affordability, functionality, and speed.
Cloudways also offers basic features like migration service from other hosting websites, firewalls, automatic backups and more. It does not offer domain registration or SSL certificates, although you can configure the free Let's Encrypt certificate through the administration panel.
Let's go beyond the basics and take a look at the most exciting features Cloudways has to offer.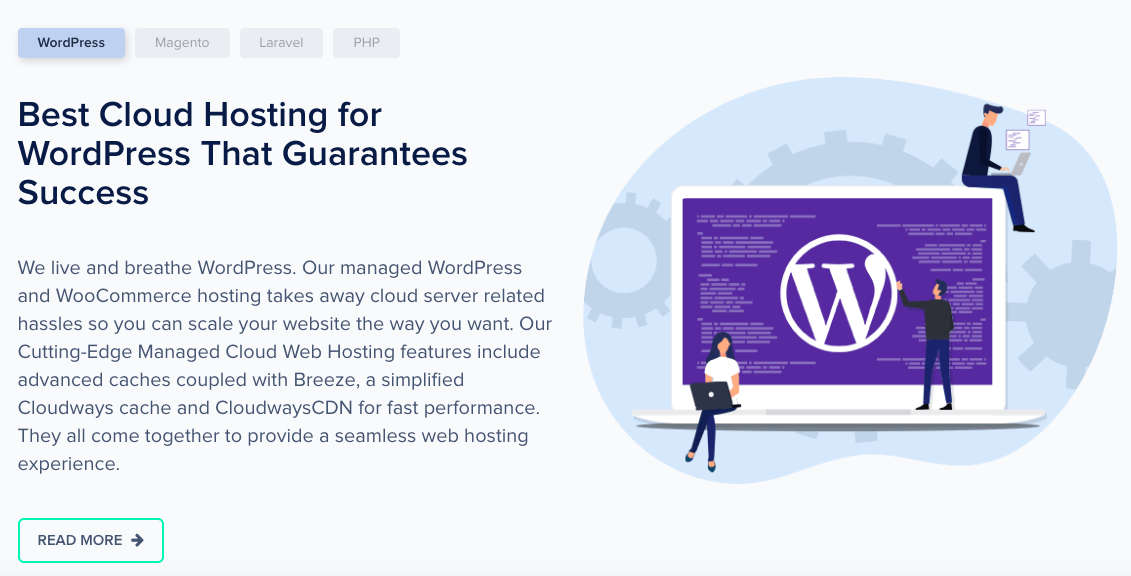 Cloud-based integrations
Cloudways is best known for being a "cloud based integrator". This is also the reason why it is popular with developers and owners of large websites with high performance requirements (it is also the reason that it is not appropriate for most normal website owners).
If this all sounds Chinese to you, basically what it means is that you can create a hosted server with one of six large cloud providers without having to create an account with another company besides Cloudways.
Also, since Cloudways is a managed hosting, you will not feel the need to take care of the daily management of technical tasks such as updating the software or configuring the server. I would say that everyone wins!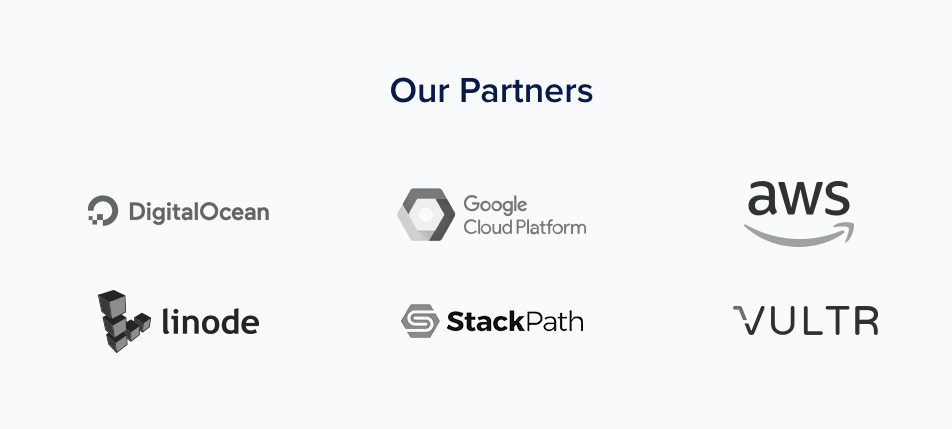 Site and URL testing
Cloudways offers unlimited staging areas and URLs, which means you can easily test new items and make changes to your code without affecting your published website.
What's more, there is a one-click tool that allows you to clone the entire server (or even individual files and databases) so you can easily move your website to a staging URL, and then post the changes when you're done.
Features that improve performance
As you would expect from a premium managed hosting provider, you get a variety of built-in tools to optimize your page load needs, especially during peak periods. These include SSD storage, built-in caches (Memcached, Varnish, and Redis) and CloudwaysCDN. If you are expecting a sudden increase in traffic due to a promotion, you don't need to worry about your website going down.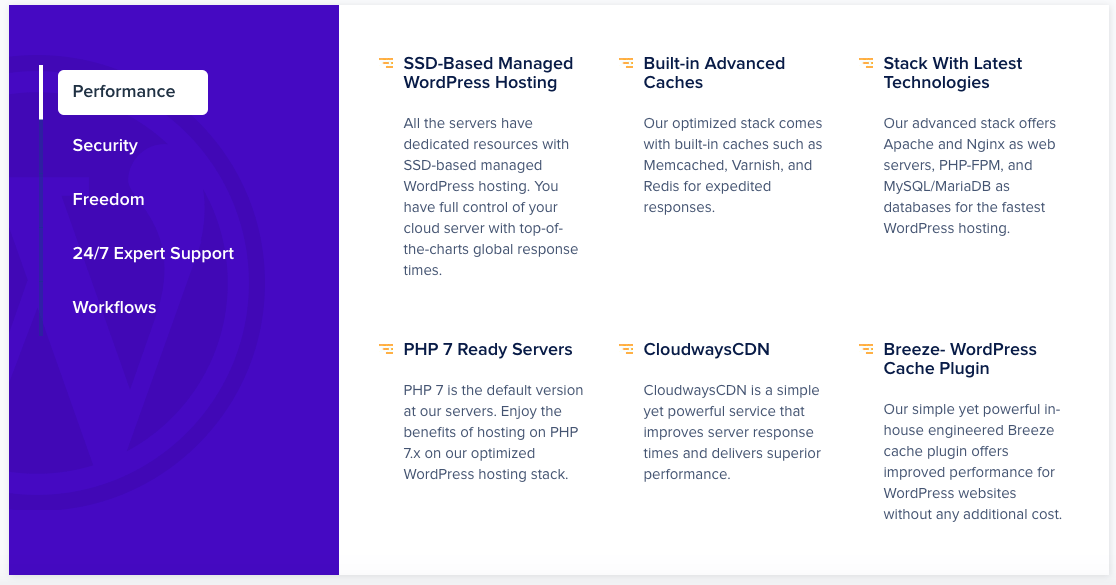 Team collaboration
Today, more and more workers are performing their duties remotely, so you'll need tools that you can collaborate effectively with team members. With Cloudways, you can easily assign tasks to coworkers and assign each member the appropriate permission levels to access their server, app, or website.
This is essential for the security of your website and I highly recommend just choosing a hosting with these permission functions.
Developer tools
If you are a developer, you will be happy to know that Cloudways provides a variety of workflow tools to make your life easier. For example, the automatic deployment of Git will help you so that the changes you make in the remote repositories are published immediately. And of course it also has usual functions like SSH and SFTP access.
EASY TO USE
You are busy, I get it. Having a successful business requires you to have multiple functions and to put out fires in your day to day. With managed hosting solutions, you can focus on what's most important and you can let Cloudways take care of managing all the technical (and boring) aspects of day-to-day life.
Create an account
Creating a Cloudways account is easy. This is generally due to the excellent design of the main website and the user interface. Although the platform is primarily aimed at developers and larger websites, beginners will still find it easy to use.
Connect a domain and install WordPress
Similarly, the process of connecting a domain and installing WordPress is simple. You can easily find tutorials online and Cloudways also offers its own supporting documentation. Whenever I had any doubts when creating my website, I only had to access the chat in real time through the control panel.
Since Cloudways does not offer domain registration services, you will need to purchase a domain from a reputable registrar and then map it back to Cloudways. This is not extremely complex, but it does add a few additional steps that can be a bit overwhelming for beginners.
Both beginners and experts can follow my guide , which covers this entire process.
WordPress automatic migration tool
Migrating from hosting can be stressful (I've experienced it!), Especially if you have a high volume or traffic. Cloudways offers you to migrate your existing WordPress website easily with its automatic migration tool.
However, if you need help, Cloudways also offers a free website migration with an expert.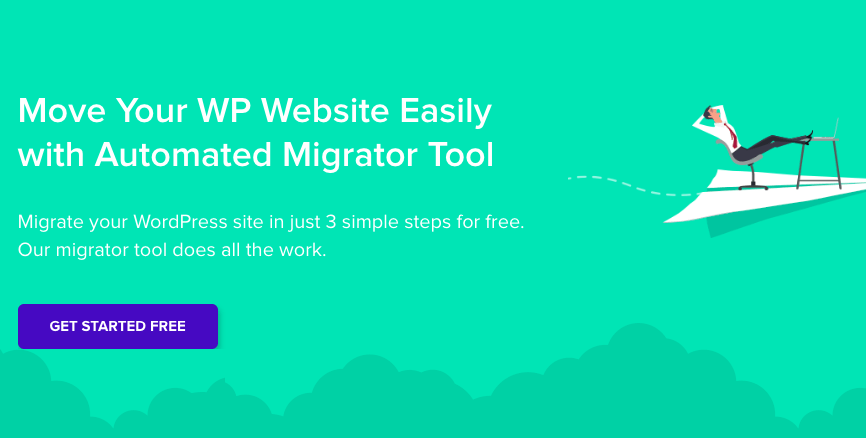 One-click software installer
It is true that it is not Softaculous, but Cloudways offers more than ten (that's right, you read correctly: ten) apps that you can install with a single click. The selection includes WordPress, Magento, Laravel, Drupal and more. Unlike the basic auto-installers, the Cloudways installer allows you to deploy programs to multiple websites on the same server.
Easy adaptation
If you need your servers to adapt to your new needs at any point, you can do it instantly with a few clicks. The best part of this is that it won't affect your existing server settings or parameters. Plus, with Cloudways' pay as you go pricing model, you will only pay for the resources you use.
PERFORMANCE
A + for speed and performance
Since the Cloudways platform integrates the services of external providers in the cloud, it is necessary to go to the individual companies to see the service level agreements of availability time. The good news is that Cloudways has partnered with reputable providers like DigitalOcean, Amazon Web Services, and Google Cloud.
Because these are the best cloud providers in the industry, Cloudways can boast upload speeds that are 40 to 50% faster than regular hosting services. There's been no mention of problems with slow downtime or websites, and in fact Cloudways has built a reputation for reliability and speed.
That said, if you have a website with high traffic volume, you need to make sure that your hosting can withstand that demand. To make sure Cloudways really complied on this, I ran my own tests with the Sucuri load time test.
The results were impressive, Cloudways is incredibly fast. The website I created on Cloudways earned overall A + ratings, with load times of less than half a second for most countries.
Australia and Tokyo were the worst (Tokyo approached two seconds), but since my chosen servers are in London, I understand why. On average, the overall time of the first byte was 200 milliseconds.
SUPPORT
All-day customer service with real-time chat
Customer service is available 24/7 with real-time chat and an online incident system. This was perfect for me. However, if you prefer to talk to someone on the phone, you can ask to be called. Like many modern companies, they don't have phone numbers posted on their website.
I got the impression that real-time chat is the preferred method of customer service (who wants to talk on the phone today?).
You can also go to Cloudways' extensive knowledge base, which includes tons of help documents and tutorials . Alternatively, if you want to chat with other developers and tech geeks, you can post a question on the active community forum.
Like the rest of the website, the customer support pages are well designed and easy to navigate.
Chat in real time
During my time at Cloudways, I resorted to live chat on several occasions, even when trying to decide which cloud provider to choose.
Each time, the operator was fully available and was always online within a couple of minutes, regardless of the time of day. There was a time when you did not understand my question and gave me an unrelated answer, but overall the answers were helpful and well informed.
Facebook
As Facebook is listed in the Contact Cloudways page , I sent them a message to test their customer service through this social media channel. I just asked a simple question ("what is the length of the trial period?"), So I expected a quick answer. Unfortunately, although I waited a couple of days for a response, I never received it.
Twitter
Twitter is also featured on the Contact page , so I decided to test its responsiveness here. I asked the team how they could check how many resources they had used (a very basic question).
I could see that the answer had been read after a minute, so I expected them to respond quickly. But again, no one answered, although I waited a couple of days. It seems that Cloudways does not offer support through social networks.
PRICE
Cloudways is not a cheap option. The lowest prices you'll find here are just as expensive as the higher-end packages from most shared hosting providers. However, that is to be expected, considering that it is a premium managed solution aimed at website owners who need high performance hosting.
The positive is that you can go up or down the plan and cancel it at any time, since your billing is calculated per hour, and so you only pay what you use. When you are inside your control panel, you can easily see an image with your use and expenses to date.
They offer a measly three-day free trial period , but in reality, most managed hosting providers don't offer any kind of free trial period, so this could be considered generous. If you decide to commit to a payment plan, the only payment options are Visa, American Express and Mastercard.
Cancellations and refunds
To test the CDN, I had to sign up for a paid account. Although I was a little disappointed with the limitations of the free trial period, I did like having the ability to view my billing in real time within the admin panel.
Since you will only pay for the resources you have used, there is no refund policy or money back guarantee . In fact, the terms clearly show that Cloudways will only refund the services that you have not used.
However, I decided to test what would happen if I requested a refund. I did the whole process through chat in real time. The operator downgraded me (without asking questions) and applied a credit to my account. Since the money had not yet left my bank account (you are only billed after a month), there was nothing to refund.