Cloud services for businesses have ceased to be something exotic. Many entrepreneurs transfer their business processes to the clouds because of their convenience, simplicity, mobility, and simply for savings. Cloud services help to work with a client base, submit tax reporting, keep records.
The number of services themselves is also constantly increasing. To solve any problem, you can almost always choose from several products. We wrote down some simple rules that will help you choose the best cloud service.
Quality and reliability
The most important question that we are trying to find out when choosing a service is how high-quality and reliable it is. In fact, this is not difficult.
How many years has the service been running? Each developer is constantly improving their service and improving reliability. Other things being equal, a service with a five-year history will be better than a startup.
Does the service have investors and who are they? A startup that is actively seeking investment will most likely close in the near future and you will have to return to the search.
As a rule, on the developer's site you can see how often the service is updated. If the service has not changed for a year, then it is not developing, and this is a sign that the project is slowly dying.
Is the address of the developer's office on the site indicated or is all the contact information a mobile phone and a WebMoney wallet? In the second case, we are dealing with a lone programmer, who is risky to trust in his business processes.
Is there life in the community of users of the service, on its pages in social networks? This will help not to become the only user of this service.
If users of the service could not be found among their friends, it makes sense to find reviews on the developer's website and call the company that left the review. Many will readily share their impressions, especially if they were negative.
Our or western?
As a rule, western services have more opportunities than domestic ones – they simply develop several years longer. But Russian services are often simpler and cheaper.
If you need to prepare any standard forms or reports, then there is no alternative to Russian services. No Western service can print, for example, Russian invoices.
Another plus of Russian services is that they will send paper closing documents for accounting.
Purely technical detail is the location of the servers. For Western services, they will be located in the USA or Europe, for domestic services in Russia or in Europe. The location in the West is more reliable; in Russia, the response time is faster. This can be important for services such as telephony.
Paid or free?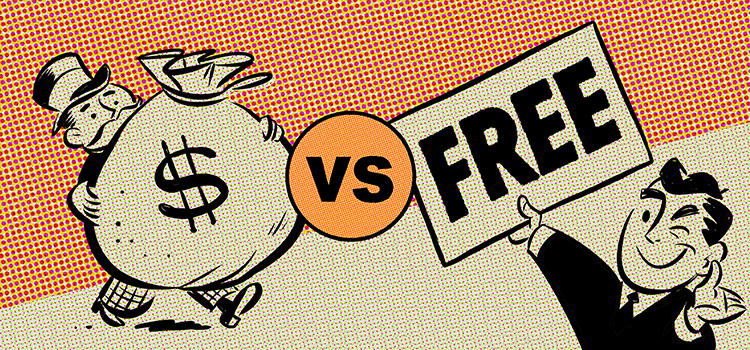 The service provider has some obligations to you only if the service is paid. In addition, all free sooner or later becomes paid, it is better to be able to immediately plan your budget.
Of course, a service for performing tasks that are not critical for business, which you can refuse at any time, may well be free.
Support
A cloud service differs from regular software in that you have less ability to influence the situation if something goes wrong. This means that you will depend on the technical support of the service. Therefore, the following questions need to be clarified.
Is telephone or email support available? What hours does support work, does it include weekends and holidays? Is there any support in Russian (in most Western services it is only English)?
Data protection
Do not expect any catch from the cloud provider itself. Your interests coincide – data leakage is not beneficial to anyone. What happens really often is that the offended employee deletes or spoils all the data that he can reach. Do not forget to immediately block the accounts of those employees whom you are firing.
It does not hurt to split access rights so that each employee sees only those documents with which he directly works. Most services allow you to do this.
Test Drive
The service may look beautiful, but be completely unsuitable for work, and vice versa. You can figure this out only by fully working in it.
Take the trial period seriously. Most services can be used for free from 14 to 30 days. This period must be used in order to work at least a week in it for all employees who will have to use it in the future.
Time to study
A common story: a manager spends a lot of his time to select and test a service, and then instructs employees to learn how to work with it on their own. The result, as a rule, is zero.
Allocate 1-2 hours in order to tell employees why a new service is needed, what is better than the old scheme and the basic principles of working with it.
Retreat paths
It is beneficial for the cloud provider that when you connect, you will never leave it (this is called vendor lock-in). And you, quite possibly, in a few years will want to switch to another. To do this, the service should be able to upload all documents and data. Best of all – in some standard format like Excel.
Smooth operation
The availability of a cloud service is determined by two things: the reliability of the service itself and the stability of your Internet connection.
Many services publish automatically updated availability data, uptime. According to them, we can conclude how much time on average a service is unavailable and how acceptable this is for you. For example, uptime of 99.8% means that the service is unavailable for about 1.5 hours per month.
As a rule, the most important thing is your own Internet connection (if the service does not know how to work offline, but so far there are not many). It is advisable to think over a backup channel (for example, mobile Internet) in advance and test the speed with which the service you plan to use works through it.
Integration
Instead of one universal service, several specialized ones are usually used. For example, cloud CRM is conveniently connected to a virtual PBX. Almost all popular western services are already integrated with each other. This is not always the case with Russian services, so it makes sense to make sure that all your services are able to work with each other.
Conclusions
Trying to implement a cloud service that doesn't really suit your company can take a lot of time and nerves. A few simple recommendations from this article will help minimize this risk.